Snow can have some of us dreaming of a Winter Wonderland, but it can quickly become a nightmare when that inclement weather makes the roads just downright unsafe. Prior to mother nature's recent flex, fair weather residents may not have taken much time to examine their vehicle's capacities in rougher elements. Newsflash, it's time to start considering your options. We asked some of our team for their take on a winter ride.
The Almighty SUV
Thanks to new technology and better design, the almighty SUV is back and better than ever. More cost effective than a truck, while still giving you the capability to handle less than ideal weather. Plus, we've heard it's frowned upon to put your kids in the bed of a pickup and drive through the snow.
2021 Cadillac Escalade
Steve's take: Two words – Night. Vision. The dopest feature since Nicki Manaj on "Monster." A single camera in the Escalade's grille displays hazards ahead by sensing temperature differences between objects and their surroundings. Cadillac has been perfecting its night vision tech for nearly three years, its 4th generation is the latest and offers four times greater resolution than before. To boot, your night vision video images are displayed on a screen with more pixel density than a 4K television.
The system detects pedestrians, animals and other road obstructions. Thanks to its thermal view and advanced analytics, it'll alert you to danger ahead. Meaning you're good to go in poor weather. Nice! What about total darkness? Check. Heavy fog? Check. Smoke? Sheeting rain? Blinding snow? Check, check and yep. If the words "night vision" conjure up fond memories of Breakpoint and Splinter Cell, check out the Escalade. For most of us, it's the closest we'll ever get to living inside a Tom Clancy novel.
2021 Jeep Grand Cherokee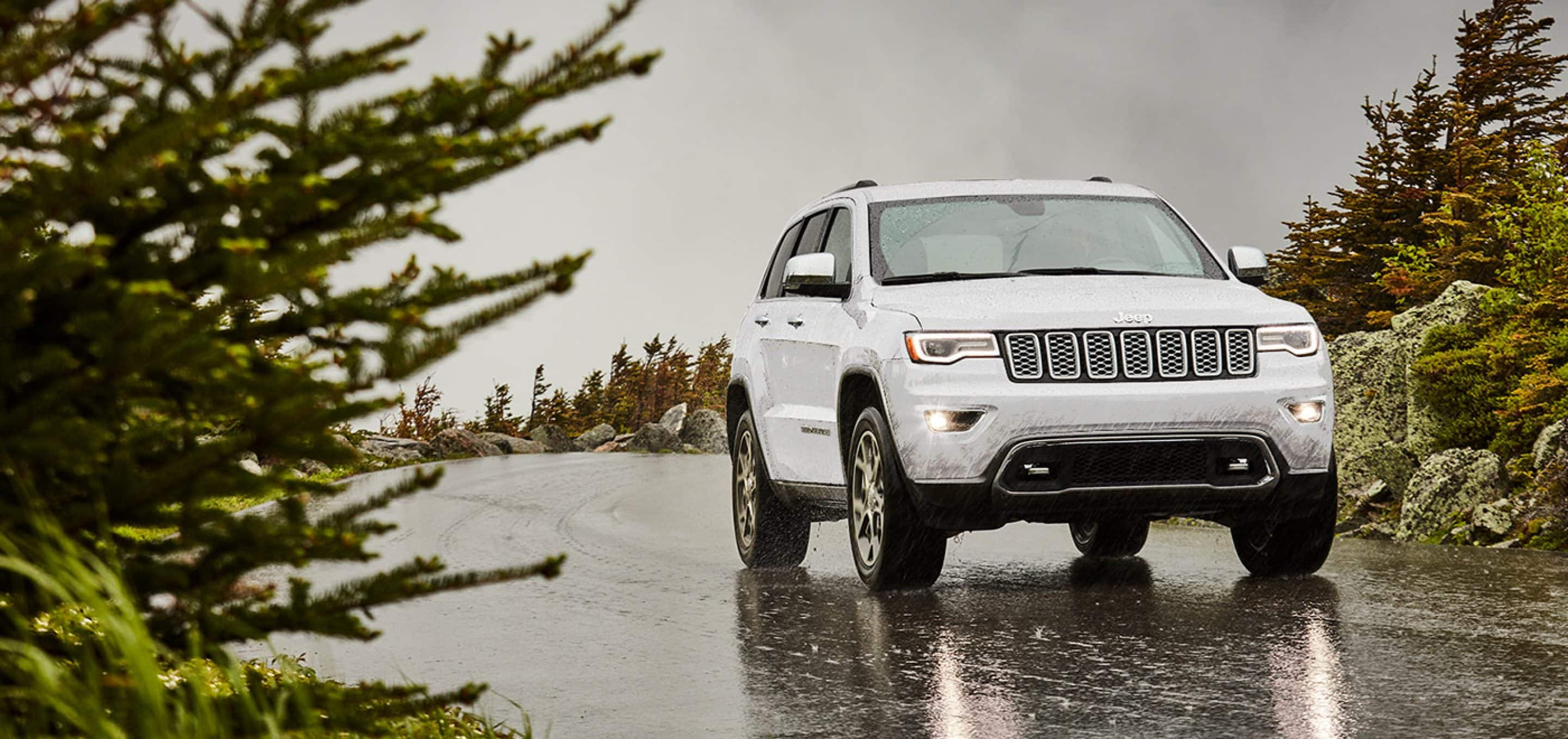 Kasey's take: Sometimes the classics are classic for a reason. The name Jeep has practically become synonymous with traipsing through rugged terrain and exploring the great outdoors. And perhaps none of Jeep's vehicles is more equipped for braving the elements than the aptly-named Grand Cherokee.
The best vehicles in harsh weather are the safest ones, and the 2021 Jeep Grand Cherokee is no slouch on safety features. With available technology like Advanced Brake Assist, automatic high-beam headlights and rain-sensing windshield wipers, perilous winter driving becomes much easier in this SUV. Jeep's legendary 4×4 capability is also available, and highly recommended, to handle whatever Mother Nature throws at you. And with three rows of seating, the whole family — human or furry — can get where they need to go safely and comfortably.
No matter where you live, you can't go wrong with a Grand Cherokee, a certified classic.
Jeep Grand Cherokee for sale
The Crossover
For versatility, comfort and bang for your buck value, it doesn't get much better than when The Flash appeared on Supergirl. The same goes for our picks in this category. Yes, we're talking about the Crossover.
2021 Subaru Crosstrek
Annie's take: Subarus are generally touted as the adaptable and practical SUV of the Outdoorsy People. If you've ever visited the Pacific Northwest, then you know that you could practically throw a rock and hit a Subaru (please don't throw rocks at Subarus), and with good reason; Subaru is famously known for its production of resilient, efficient, and most of all versatile vehicles, so an environment of notoriously less-than-ideal weather conditions is essentially the Subaru's natural habitat. And the Crosstrek is no exception.
The brand's newest crossover serves up fun and capability in one sporty little package, at a price point closer to most of today's sedans, making it far more accessible than your average SUV. Consumer Reports gave top marks to the Crosstrek's powerful braking and ease of use controls, ensuring your safety on the road, no matter the conditions. If you're looking for that balance between cost and quality, the Subaru Crosstrek is here to answer the call.
Browse Subaru Crosstrek near you
2021 Kia Seltos
Ty's take: "Herculean" has been tossed around to describe the Seltos, and we'd stand by it being able to tackle more than the 12 Trials. The Telluride's younger sibling brings all-wheel drive handling on most models with the option for a turbo engine that gets 175 horsepower.
Its variable transmission, better known by some of you as a CVT, handles like a normal automatic and keeps that cringe-inducing droning noise found in most CVT models at bay. This all combined with its precise steering ensures a snowstorm remains nothing more than a pesky inconvenience when you're on the road.
You can't predict Mother Nature, but you can be ready for her thanks to advances in vehicle safety, capability and technology. When it's coming down like cats and dogs, these picks just might be your Best Ride.